Saturday, 24 December 2011
Thursday, 1 December 2011
On the streets and inside the shopping malls in the UK , it was obvious that preparations for this year's Christmas season started many weeks ago.
Usually , the turning on of the Christmas lights in major venues , buildings and shopping precincts, signal the official beginning of the Christmas season which starts in mid November and ends in mid January.
The turning on of the Christmas Lights in Downing Street and Trafalgar Square were the long-awaited major events in recent days.



The Prime Minister turned on the Christmas Lights at Downing Street ,Thursday, 1st December, 2011.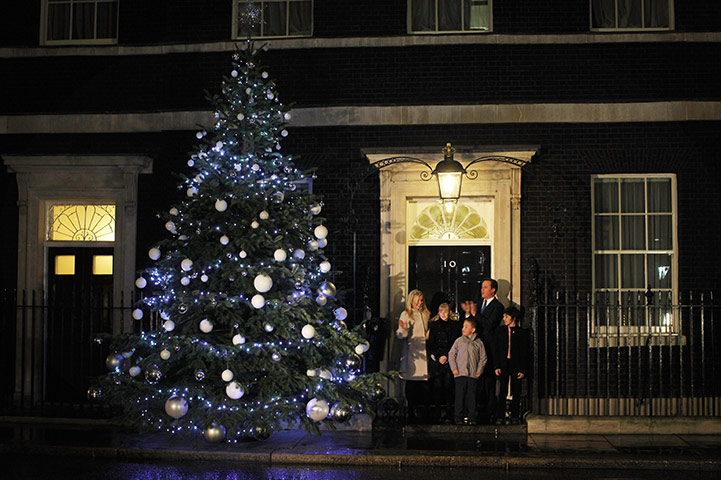 The Christmas tree at Downing Street is a 16ft-high sparkler and is a 25-year-old Nordmann Fir that had been growing quietly on an Oxfordshire farm since 1989.
It was thrust into the spotlight as the Downing Street Christmas tree for Christmas 2011. The arrival and setting up of the tree provoked a flurry of festive activity in Downing Street and even some prime ministerial tweets.
By nightfall, it was in place and the lights were switched on.

At Trafalgar Square London, the annual Christmas Tree Lighting ceremony took place from 6pm, Thursday 1st December 2011, at a ceremony featuring the Lord Mayor of Westminster, the Mayor of Oslo, St Martin in the Fields choir and the Salvation Army.
The Trafalgar Square ceremony is a time-honoured London tradition which signals the beginning of Christmas, with the lighting of the world's most famous Christmas tree .
The tree will remain at Trafalgar Square until Thursday 5th January 2012.



Trafalgar Square lights up for Christmas






Trafalgar Square has been presented with a large Norwegian tree each winter for over 60 years as a token of friendship and gratitude for Britain's assistance during World War II.
This historic tradition has become a definitive Christmas event in London, marking the onset of the festive season.
This year marks the 65th tree to come to London from the City of Oslo, a perennially popular occasion celebrating goodwill and friendship at Christmas.
The Trafalgar Square Christmas Tree is decorated in traditional Norwegian style with hundreds of individual white lights. The tree itself is traditionally 20 – 25 metres tall and the sight of it decorated in white light has become an iconic London Christmas image.
The lighting ceremonies at Christmas, usually feature the switching on of the lights by top celebrities in the various venues and include a programme of festive events, some of which are ongoing until Christmas Day, including carol singing and more.
After the initial lighting ceremony ,the Christmas tree lights will be turned on from dusk onwards throughout the festive season.

In addition to the special effects Christmas lighting , beautiful and elaborate Christmas "bling" have adorned the ceilings and walls of most shops for many weeks now. Christmas carols wafting from various stores sound systems have added to the excitement for shoppers which only the Christmas Season brings.

Christmas Tree lighting ceremonies have taken place , with similar pomp and pageantry in New York City and other major cities , worldwide.

Christmas Lights have adorned trees and lamp posts on major London High Streets since the last fortnight.
These Christmas lights throughout London and other UK cities will remain lit until about 10th January , 2012.
Major popular shopping venues such as Oxford Street , Regent Street , Bond Street Carnaby Street and many other venues in Central London and all over the UK, have featured the most dazzling displays of lights and decorations in past years.
The Christmas displays for these shopping districts are expected to be even better this year than before.

"Commercialisation of Christmas !",you say?
What do you mean by "commercialisation"?!
Be real!
This is the Season to rejoice and be jolly , for the King of Kings was born and He lives for ever more.
Merry Christmas!
Oxford Street Christmas Lights
Christmas Lights adorn South Molton Street , London
Christmas lights at Regent Street , London
There has been and there will be , always, among the people of God, a Godly remnant  whom God can boast of as His very own army. " Y...

" As he passed by, he saw a man blind from birth..   2 And his disciples asked him, "Rabbi, who sinned, this man or his parents, that...

57. "  As they were going  along the road,  someone said to him, "I will follow you wherever you go."   58.   And Jesus said to him, ...

There has been and there will be , always, among the people of God, a Godly remnant  whom God can boast of as His very own army. " Y...